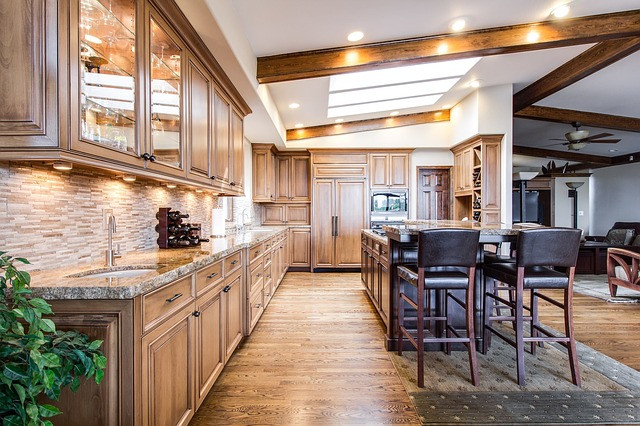 How to Buy a Home in Dallas
Dallas is one of the fastest growing areas in the United States because it offers a wealth of opportunities for employment, entertainment and pretty much everything else. According to the Real Estate Center at Texas A&M, housing sales are at record highs. Good homes are in short supply, so finding the one that's right for you presents challenges. That's why working with the right realtor is more important than ever. Here's how to buy a home in Dallas.
Determine Your Budget
No matter how much money you have, at some point, there's a cap on what you can spend on housing. Before you can buy a home in Dallas, you need to know how much you can afford. To find out, gather paycheck stubs, W-2s and records of any other income. Sit down with a calculator and do the following:
Add up all your income. Let's say you make $1,900 a month and your spouse brings in $3,100. That would put your total income around $5,000/month.
Multiply that number by 28 percent. Most financial advisors say this is the maximum amount you should spend on a house payment. In the above example, you could spend up to $1,400 a month on housing. That puts you looking at homes priced $225,000 or less if you have a 20 percent down payment.
There are a lot of other factors involved when it comes to getting a home loan and making sure your home is affordable. A lot of lenders have calculators you can use to factor in your car payment, credit card payment and other debt. This calculator from bankrate.com lets you see how much house you can afford with today's interest rates. As a licensed mortgage consultant, Cyndi Garrett can help you evaluate your financial situation to decide how much home you can afford.
Research Dallas Homes for Sale
Once you know your price range, the next step is deciding where you want to buy a home in Dallas. There are so many communities with great schools, employment opportunities, and all the shopping, dining and entertainment options you could want.
Some buyers already know where they want to live. They want to buy a home in Dallas that's close to family or work. Others aren't sure whether they want to buy a home in Rockwall, buy a condo in Forney or look into property in Fate, Heath or Rowlett. Either way, online research will help you narrow down your options.
Our website allows you to search Dallas homes currently for sale in any price range. Filter by neighborhood using our Map Search. Make use of our filter to search for homes with a virtual tour or to see ones having an open house soon.
Even if you're not ready to buy, it's never too soon to start researching communities, neighborhoods and home values. Start sifting through what's out there to get a feel for what you like and don't like. It's also never too early to reach out to a Dallas real estate agent. Send Cyndi Garrett a message with your home buying questions or to receive new listings as soon as they hit the market.
At the same time, research Dallas real estate trends. Our blog contains resources like the North Texas Market Snapshot, and our Communities tab provides links to information on homes for sale around the DFW area.
Find the Best Dallas Realtor for You
If buying a home is a journey, think of your realtor as an expert guide. You're going to face challenges at almost every stage. If you find a good realtor, he or she will have the experience, the resources and the communication skills to help you through. If you choose one who isn't a good fit, a lot could go wrong. Here's what to look for.
Licensing – Our state requires realtors to obtain a Texas Salesperson License. The Texas Real Estate Commission allows you to look up realtors by name to verify licensing.
Experience – Find a Dallas realtor with experience working with buyers like you. The best Dallas realtor for you isn't going to be someone who just got their license. The more experience they have with area real estate, the better. Cyndi Garrett has more than 25 years of experience in real estate.
Communication skills – To buy a home in Dallas it takes patience, but sometimes you also have to move quickly. You're about to spend hundreds of thousands of dollars, and you need a responsive expert to make informed decisions. Look for a realtor who gets back with you within a reasonable time frame. Real estate has its own jargon, so it's also important to work with one who explains things in ways you can understand.
References – A good realtor will have a long list of satisfied clients. Read reviews and contact previous buyers to learn about what they experienced.
Prequalification to Buy a Home in Dallas
When you're ready to get serious about finding a home, the next step is getting prequalified for a mortgage. It's helpful for a variety of reasons. First, it allows you to talk over your loan options and budget concerns with a lender. Second, the lender will run your credit and let you know if there are problems that could affect interest rates or your ability to get a home loan. Then, you can verify the price range you're shopping in will fit comfortably within your budget.
Once you've been prequalified to buy a home in Dallas, your lender will give you a pre-approval letter. When you find the home you're interested in, buyers will take your offer seriously because they know you can access funds to complete the purchase.
It's a good idea to talk to more than one bank or mortgage broker before you decide what lender is right for you. Cyndi Garrett has resources that can help.
View Dallas Homes for Sale
Finally, you get to the fun part. If you've been doing your research, you probably already have a list of homes you'd like to see. You'll quickly discover that while photos and virtual tours are helpful, they only tell part of the tale.
People ask how to tell when they've found the right house. Most of the time, you just know.
When you pull up to the curb, what you see makes you want to go inside. The moment you walk in the door, you feel a connection. As you walk through the rooms, you can see yourself living there. You might plan on making small changes, but overall the home matches your lifestyle.
You leave smitten. You may look at other Dallas homes for sale, but your mind keeps going back to that one. A sure sign it might be the one is when you compare every other home to that one and it keeps coming out as your top choice.
If that doesn't happen when you look at homes, keep looking. If you talk yourself into something because you're in a rush to buy a home in Dallas, you'll kick yourself later. The right house is out there, and Cyndi Garrett can help you find it.
Make Your Offer
Once you've found it, the next step is making an offer. Base that on what the house is worth to you. A good realtor can help you evaluate what's reasonable based on a market analysis using comparable homes in the area.
After you decide your offer, you submit it in writing. Your realtor can sit down with you and walk through right type of contract, depending on whether you're buying newly completed construction, an existing home or another type of real estate.
When buyers submit their written offer, sometimes sellers accept right away. Other times they aren't satisfied with the amount or the terms. If what you're offering and what they want are too far apart, they might reject it altogether, but usually that's not what happens. Typically, negotiation follows.
Negotiate to Buy a Home in Dallas
There are several times during the home buying process that stress levels peak, and this is one of them. Understand it's normal. You and the seller are both talking in terms of a lot of money. There's also emotion involved because you both have strong feelings about the home.
Sellers are usually pretty motivated, and that works in your favor. They listed their home because they want to sell it. If at first you don't agree on the price, it's okay to go back and forth. The best Dallas realtors know how to offer market insight, but also to help you evaluate what's best for your financial future. If your offer is realistic, he or she should be able to help you negotiate an agreement.
At that point, both parties will sign the contract. You'll deposit earnest money and an option fee with the agreed-upon title company and the mortgage closing process begins. Your lender will have a list of things they need to provide funding.
Schedule a home inspection as soon after contract signing as possible. If your home has defects, you can negotiate for repairs. Also, if the inspector uncovers an issue that makes you no longer want the home, you can withdraw your offer during the option period.
Close on Your Home
Closing is when the seller receives money and you get the property title and keys. Your realtor and a closing agent will attend with you, usually at an attorney's office or title company.
Most of the time, buyers walk through the home 24 hours before closing to make sure repairs are complete and all is as expected. At closing, you'll provide your down payment, pay closing costs and sign all necessary documentation. Then your home is yours to enjoy.
The journey is exciting, especially when you work with someone committed to helping you find your dream home. Contact Cyndi Garrett to find out how to buy a home in Dallas today.